Hundreds dead after massive earthquake rocks Turkey and Syria
President Recep Tayyip Erdoğan said search-and-rescue teams had been sent to the region. Speaking on Twitter, he expressed hope for a rapid recovery.
National security adviser Jake Sullivan said in a statement overnight that the U.S. is "profoundly concerned" about the quake's impacts.
"We stand ready to provide any and all needed assistance," he said. "President Biden has directed USAID and other federal government partners to assess U.S. response options to help those most affected. We will continue to closely monitor the situation in coordination with the Government of Turkiye."
Anadolu published a photo of a pancaked building, window coverings exposed to the air, furniture crushed, water fixtures detached from plumbing. Its location was not made clear.
Video from Malatya, Turkey, distributed by Reuters, showed damaged buildings, rubble on the street and rescuers on the ground ready to act.
The region is seismically active, the USGS said, and the initial quake appears to have been within the vicinity of a triple-junction of tectonics, between the Anatolia, Arabia and Africa plates.
Noted seismologist Lucy Jones tweeted that as many as 4.5 million people in the region experienced very strong or severe shaking, according to her reading of USGS data.
The USGS said housing in the region is often composed of earthquake-vulnerable construction and materials, including unreinforced brick masonry and low-rise concrete frame structures without ducts.
"Overall, the population in this region resides in structures that are extremely vulnerable to earthquake shaking," according to a USGS analysis.
Syria's state media reported that some buildings collapsed in the northern city of Aleppo and the central city of Hama.
In Syria's rebel-held northwest that borders Turkey several buildings collapsed, according to the opposition's Syrian Civil Defense.
The volunteer group Syria Civil Defence, also known as the White Helmets, declared an unofficial state of emergency for the country as it said collapsed buildings have trapped many residents trapped.
A computer-generated analysis by the USGS PAGER program, for Prompt Assessment of Global Earthquakes for Response, determined the number of deaths could surpass 100 and reach as many as 1,000. It also calculated losses could amount to $1 billion or more.
However, the USGS said the projections had not yet been reviewed by a scientist.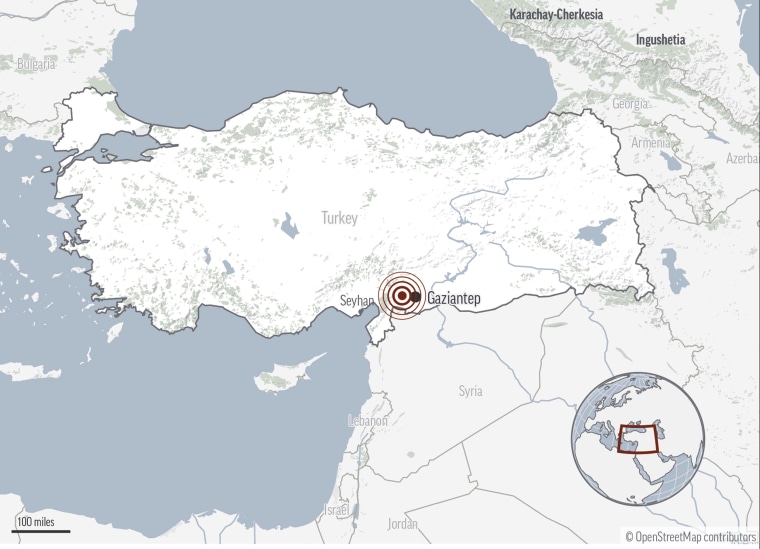 The quake jolted residents in Lebanon from beds, shaking buildings for about 40 seconds. Many residents of Beirut left their homes and took to the streets or drove in their cars away from buildings.
Turkey sits on top of major fault lines and is frequently shaken by earthquakes; 18,000 people were killed in powerful earthquakes that hit northwest Turkey in 1999.
The recorded history of earthquakes in the region goes back hundreds of years, according to the USGS, which said Monday's temblor happened in either the East Anatolia fault zone or the Dead Sea transform fault zone.
The last big shaker in the region took place on Jan. 24, 2020, and measured 6.7, the USGS said. It was northeast of Monday's quake, it said.
Nearby Aleppo, Syria, was struck by what experts estimate was a magnitude-7.1 earthquake in 1138, the survey said. An estimated magnitude-7.0 earthquake struck the same area of Syria in 1822, it said.
Beatrice Guzzardi, Aina J. Khan, Lawahez Jabari, Aziz Akyavas and Charlene Gubash contributed.